Oliver Simpson:
interactive
visual
designer
I am interested in the way we, as humans, experience things.
I want to build a world with rich interactions, full of wonder and possibility.
I design and develop apps + websites, games and public art installations. I also like to VJ, create generative art and motion graphics.

View my Linked-In profile for my professional resume, or my Behanced profile for my UI and graphic design projects. Contact me if you want to say hello.
Moon Room
The Moon Room is an immersive experience at Never Apart, a new non-profit arts and culture centre in Montreal. People lie on bean bags around a three-dimensional representation of the Moon, while surround-sound speakers fill the room with ambient, cosmic sounds. The room promotes a sense of calm and connection to the cosmos; it is a space of meditation and tranquility. Our team - myself, Kelly Nunes and Adam Sajkowski - was selected by Never Apart to bring this project to life. I was responsible for video mapping and all digital aspects of the project. I used the C++ creative coding framework: OpenFramworks, together with the mapping software: Madmapper, to achieve this. It took approximately a month to build the Moon Room. We faced many technical challenges and I learned a lot about projecting onto non-flat surfaces.High resolution images of the Moon's entire surface, together with more detailed surface videos, are provided by Arizona State University. You can read more about the making of the Moon Room in this Moon Room Interview: Kelly Nunes.
Eco
How does one bring vitality to an otherwise lifeless space? This was the question driving this project. Our team spent a lot of time discussing how we could transform this space from a cold, impersonal space into a warm, inviting space with limited resources and without infringing on safety regulations. We initially considered introducing sonic elements into the space by hanging fine chains that would knock together to produce light, metalic sounds, but this was problematic due to the weight involved and our because of our dependance on the existing structure for support. So we transitioned from sound to light, light being strongly associated with life. Inspired by the writings of Christopher Alexander, we decided to create a light-based installation that would resonate with people on an emotional level. In practical terms, Eco is a physical column of light with moving parts that illuminates and animates the artium stairwell in the engineering department at Concordia University. You can dicover more about this project on the Eco website.
Sool
Sool is a software-based ecosystem of semi-autonomous micro-organisms. It is built with the Processing programming environment with techniques derived from Dan Shiffman's book The Nature of Code. All 'forces' (physical interactions) are hand coded, i.e. no [code] libraries were used. The user has the ability to generate particles with her finger or cursor, and she can adjust the 'viscosity' of the cell. Once the particles are generated, they take on a life of their own, making their own decisions about where they go and interacting with their virtual environment. The piece is inspired by the cover art of Ellen Alien's album, SOOL.
Pinpeat
A visual interpretation of Pinpeat: traditional Cambodian ceremonial music associated with the Angkor period. These animations were part of an interactive feature for an exhibition on Pinpeat at the Quai Branly Museum in Paris. Graphic elements are syncronized with sound frequencies using After Effects. Art direction by SHIC.
Array
'The sounds of vacuum tubes and transistor rhythms'. Array is a dark, brooding, ambient-electronic album by Montreal artist Aether Pilot. The soundscapes represent his vison of a distopian future, inspired by soviet era architecture and technology. I was asked to create visual material for all six tracks. The visual elements are computer-generated using a custom program I made using Quartz Composer and composited in After Effects. Art direction by Gridspace.
Le Chromatograph
I was comissioned by the Montreal interaction design agency, La Camaraderie, to create a screensaver that would support the physical chromatograph machine. This 19th Century invention is a semi-automatic drawing machine that they recreated and then presented as an interactive public art installation. Learn more about this marvelous drawing machine.
Live Visual Projections
I've been performing live visuals (or 'VJing') at events for over 10 years. I have performed live visuals at clubs and festivals for some of the most respected artists in the underground electronic music scene including Richie Hawtin, Moritz von Oswald, Juan Atkins, DJ Stingray, Veronica Vasicka and John Talabot. You can follow my VJ adventures on my Facebook artist page: Ollygram.
The Grid
The Grid is a series of programmatic animations designed specifically for a low-res / large format grid of LED panels installed at La Société des Arts Technologiques for Mutek festival 2013 in Montreal. I was invited to VJ under my own name (Ollygram) on The Grid for Juan Atkins and Moritz Von Oswald for the closing night of the festival. Watch the demo video. Art direction by Iregular.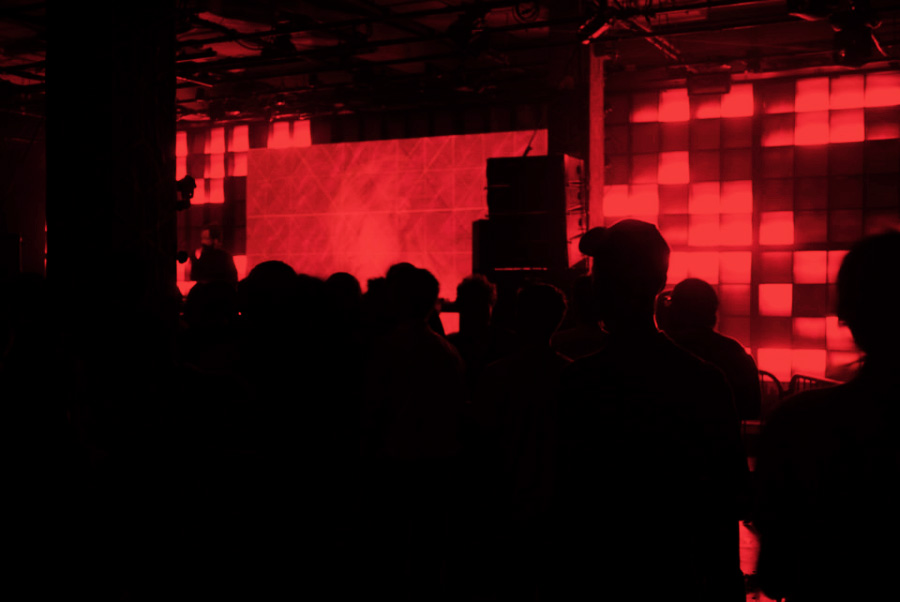 View on desktop for a better experience.
Mobile version coming soon.